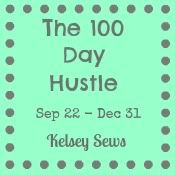 If you've been reading this blog for long, you probably know that I am a huge fan of lists. Huge, crazy ambitious lists that almost never get completed in the designated time frame, but inspire me nonetheless to push through more than I thought possible! I love them! And the 100 Day Hustle link up signals that there are less than 100 days left in 2012. Why not make the most of them?
Soooo...the opportunity to create a list to finish off before the end of year? Golden opportunity, my friends. Since we'll be moving back to the midwest in early January, this list serves the dual purpose of listing projects I really need to finish up to aid in moving/shipping.
I'm excited! Aren't you? (And have you made your list?)
Totally New Projects:
Four Capes for the Niece and Nephews and Banzo
Tote for me
Totes for others
I-spy quilt for my boys
Skirt for me
Drawstring Bags
Tags
In Progress:
Quilt for 100 Kids
Triangle Quilt
Marie Quilt
Andrea Quilt
HST BOM and BOF blocks
Almost Done:
Sequin Project
Wonky Star Tablerunner
That's it. In typical Audrey fashion, I'm sure I'll add to the list. For instance, I have grand ideas for my charm packs of Oh, Deer! by Momo, and I should be getting my Low Volume Charm Swap charms back sometime before we move as well....so who knows! But this is a good start, I think.
What are you planning to do with your last 100 days of 2012? (It's a little depressing to think 2012 is coming to an end, but then I remember just how much I love fall, so I'll be happy until winter hits.)